Unlock the future of security with CyberArk and SHI
CyberArk provides the most comprehensive security offering for all identity types — human or machine, across business applications and hybrid-cloud workloads, throughout the DevOps lifecycle, no matter where your workforce is located.
SHI is an advanced-level strategic partner for CyberArk with dedicated identity security consulting teams to help you select which solution fits your needs. With experienced experts who can ensure your identity project comes in on time and on budget, we also offer post-sales installation and support services for CyberArk products.
Benefits of CyberArk solutions through SHI
Seamless and secure access for all identities
By combining secure SSO, adaptive MFA, lifecycle management, directory services, and user behavior analytics, we help you streamline operations and give users simple and secure access to resources – on cloud, hybrid, - from any location, using any device.
Intelligent privilege controls
Apply world-class intelligent privilege controls across the IT estate, as well as differentiated controls to secure the unique needs of work force users, third-party vendors, endpoints and machine identities as they access sensitive data.
Flexible identity automation and orchestration
Streamline HR processes, ensure users have the right access to the right recourses, enable compliance with industry or government regulations, and improve efficiencies across the board with orchestration and lifecycle management permissions and entitlement, and directory and federation services.
CyberArk secures privileged access across the IT estate, helping you defend against compromised identities and credentials.
CyberArk's industry-leading PAM solutions help customers deliver measurable risk reduction. Customers can discover, onboard, and securely manage privileged accounts, isolate and monitor remote sessions, and detect suspicious activity that could signal compromised privileged access.
Additional and differentiated controls secure the unique needs of workforce users, third-party vendors, endpoints, and machine identities with high-risk access to sensitive resources and data.
Endpoint Privilege Security
To help protect your organization from cyber incidents and confidently defend your endpoints, you need to remove local admin rights, ensure least privilege, secure credentials, and defend against ransomware. Leveraging Endpoint Privilege Manager (EPM) helps you scale seamlessly and respond to change in a systematic way, cutting back on operational inefficiencies.
Endpoint Privilege Manager protects Windows, Mac, and Linux workstations, servers, and cloud instances. Default policies, including QuickStart risk reduction and least privilege framework, help speed up deployment, achieve quick security wins, and recognize ROI.
Managing endpoint privileges
Why manage privileges on the endpoints? Privileged endpoint accounts like Microsoft Windows, MacOS, and Linux administrator accounts are a common target for threat actors. Once adversaries gain access to privileged accounts they can traverse a network, taking over workstations, servers, and other critical parts of the infrastructure. Attackers and cybercriminals often exploit privileged endpoint accounts. Nearly 70% of organizations experience one or more endpoint breaches a year. Endpoint privilege managers help mitigate cyber risk by providing foundational endpoint security controls, locking down endpoint privileges and improving application governance.
Workforce Access
Your users need quick access to a variety of business resources. You need confidence it's them knocking – not an attacker.
CyberArk Workforce Identity and Customer Identity solutions continuously monitor behavioral signals to make sure your users are who they say they are.
Empower your workforce with simple and secure access to critical business applications leveraging single sign-on and adaptive multi-factor authentication.
Vet Identity and Access Management Solutions
Decision-makers across IT and security are facing increased scrutiny from their boards and senior leaders over cybersecurity preparedness. You might be a CIO or CISO preparing to make the case for investing in new solutions. You might be an IT or security team member who's researching vendors. Either way, you could use some unbiased advice on how to vet solutions that can strengthen your organization's security posture.
CyberArk provides you with vendor-agnostic recommendations and checklists to help you find solutions with the security-first capabilities you need.
Secrets Management
Keep your secrets safe. Secure credentials used by applications, scripts and other non-human identities with CyberArk's secrets management software.
Modern SaaS secrets management for multicloud, CI/CD pipelines, and portability with a uniform experience for security and developers no matter where their secrets are, enabling teams to build applications independent of infrastructure while securing their most sensitive secrets.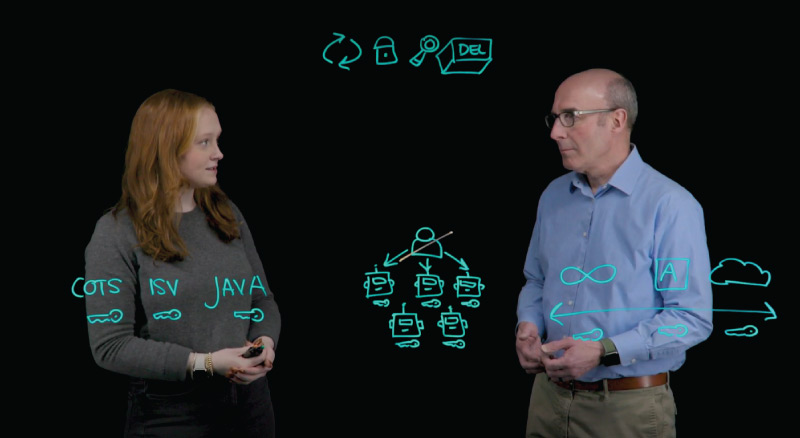 Enterprise Security Group Technical Validation for CyberArk Conjur Secrets Manager
This ESG Technical Validation explores CyberArk Conjur Secrets Manager, which helps provide secure secrets management for cloud-native, containerized applications and DevOps tools. The report includes results of remote validation of CyberArk Conjur Secrets Manager.
You might also be interested in: