Enterprise data management you can rely on
Veritas Technologies is a leader in multicloud data management. Over 80,000 customers — including 95% of the Fortune 100 — rely on us to help ensure the protection, recoverability, and compliance of their data. We have a reputation for reliability at scale, which delivers the resilience our customers need against the disruptions threatened by cyberattacks, like ransomware. No other vendor can match our ability to execute, with support for 800+ data sources, 100+ operating systems, 1,400+ storage targets, and 60+ clouds. Together, SHI and Veritas can solve your most important data protection problems, regardless of where your data resides.
SHI proudly boasts an impressive collection of over 200 Veritas certifications. These certifications cover a wide range of critical areas, including business continuity/disaster recovery, data protection, data visibility, data and workload portability, digital compliance, multi/hybrid cloud, storage optimization, and virtualization.
Benefits of Veritas Solutions through SHI
Industry-leading solutions 
Veritas solutions are recognized year after year:
CRN Cloud 100 list 2021, 2022, 2023
17x Leader in the Gartner Magic Quadrant for Enterprise Backup and Recovery Software Solutions
15x Leader in the Gartner Magic Quadrant for Enterprise Information Archiving
Longstanding partnership
SHI and Veritas have been partnering for over 20 years. Our teams work closely together to provide you with the best experience possible and ensure we're meeting your business objectives.
Technical expertise
SHI holds over 200 Veritas certifications spanning business continuity/disaster recovery, data protection, data visibility, data and workload portability, digital compliance, multi/hybrid cloud, storage optimization and virtualization. 
Veritas Alta Cloud Platform
Veritas Alta is a unified cloud data management platform that delivers the broadest array of enterprise-class data services in the industry and brings together Veritas' entire cloud portfolio.
Data protection: gain unmatched resiliency with automated, intelligent recovery and complete visibility.
Application resiliency: ensure performance, availability, and cross-cloud mobility for the always-on business.
Data compliance and governance: capture and visualize everything. Archive anywhere. Discover what matters most.
Learn more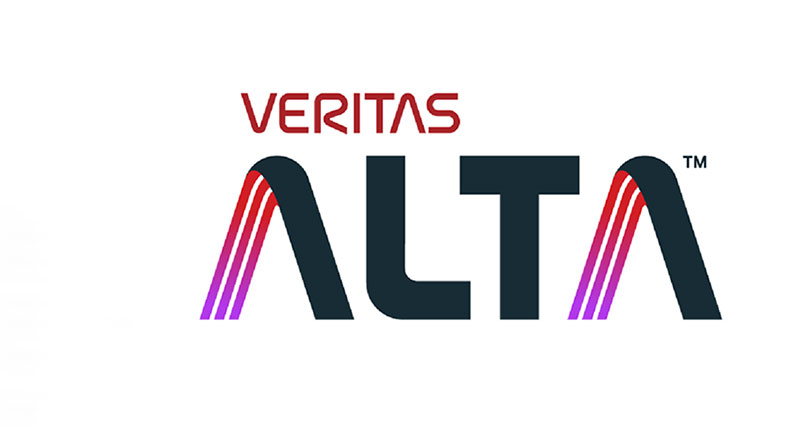 Ransomware
It's time to turn the tables on ransomware and strengthen the resiliency of your organization. Veritas provides a unified, multi-layered platform approach that seamlessly integrates proactive protection, relentless detection, and industry-leading backup and recovery, allowing you to:
Obtain full data visibility.
Reduce attack surfaces.
Implement immutable storage.
Scan for anomalies and malware.
Rehearse recovery protocols.
Recover at enterprise scale.
Learn more
Microsoft 365
The biggest threats to data stored in Microsoft 365 are ransomware and accidental deletion by users. Veritas Alta SaaS Protection allows you to recover from all data loss scenarios with ease.
Flexible support: easily support popular SaaS environments at any scale with native connectors.
Operational efficiency: intuitive controls and a modern UI make deployment, compliance, and recovery simple.
Cloud data security: ensure recovery of critical data with near-zero RPOs and RTOs – even after a cyberattack.
Learn more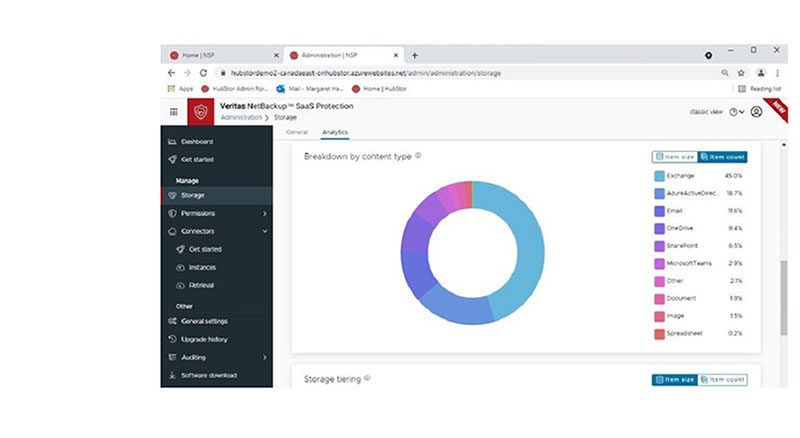 Veritas Alta Archiving is a fully integrated cloud archive platform to capture, ingest, supervise, and discover data for your organization's compliance needs, enabling you to reduce costs and increase productivity.
Capture everything: expand your discovery capabilities across collaboration content, chat, email, social media, voice communications, and more.
Archive anywhere: extend your data archive reach with deployment options spanning on-prem, hybrid, your own tenant, and native multi-tenant SaaS.
Discover what matters: optimize data retention and locate relevant data quickly for discovery, supervision, privacy, and legal challenges.
Scale with ease: Veritas Alta Archiving is built to scale, ensuring no impact to platform performance as your data volume grows.
Learn more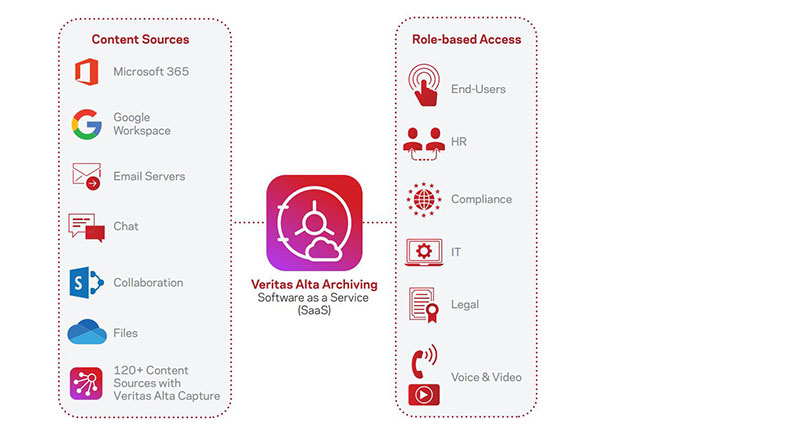 Compliance
Veritas Alta Capture gives your organization cloud-based capabilities that work to simplify data gathering and minimize compliance risk no matter where the content is being shared.
Capture everything: capture and manage content across the most popular digital communication channels with full context and fidelity preserved.
Minimize compliance risk: support internal investigations to minimize compliance risk across all major regulatory bodies with compelling information.
Reduce complexity: automate data archive and management activities, eliminate trivial data, and reduce costs.
Learn more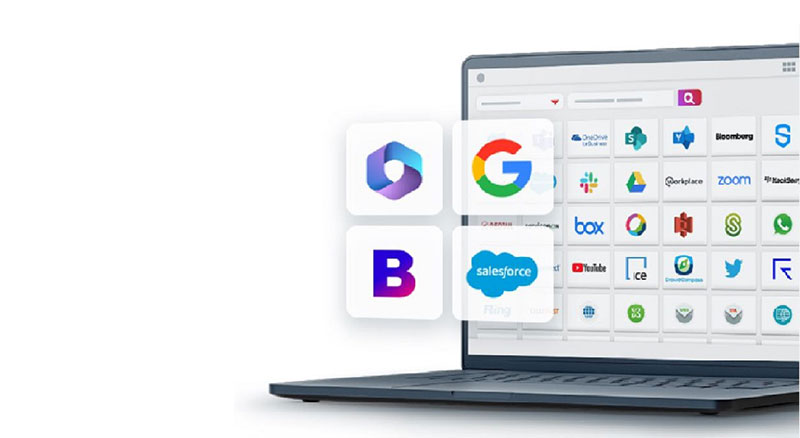 The scale and complexity of eDiscovery requirements can't be solved with a grab bag of point products. Veritas Alta eDiscovery is a powerful, integrated, cloud-based solution that enables organizations to easily collect, review and produce electronically stored information for legal and investigation needs.
Journal what matters: be proactive about regulatory compliance with journal archiving of sensitive data.
Collect anything: easily manage discovery with defensible collections from any content source.
Review efficiently: obtain fast, accurate results with purpose-built review and upstream eDiscovery.
Learn more
You might also be interested in: