About Cohesity
Cohesity is a next-gen data management company with a modern approach to cyber resilience for hybrid and multi-cloud environments.
Partnership with SHI
Cohesity works with each of SHI's 2020 Strategic Partners. Cohesity software is certified on HPE, Cisco, Pure Storage, and Dell hardware, as well as Microsoft, AWS, Azure and Google Cloud. SHI adds value by bringing disruptive, leading technology to customers, alongside an unparalleled customer experience. Contact SHI
Modernize backup and recovery
Cohesity simplifies backup and recovery on-premises, at the edge, in the public cloud, and as a service. Dramatically reduce TCO and increase the resilience of your organization.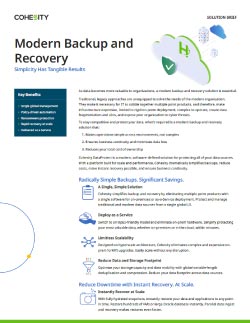 Modern backup and recovery
One-pager on backup and recovery solutions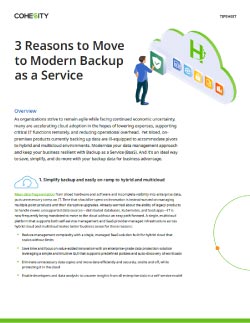 3 reasons to move to modern Backup-as-a-Service
Tip sheet on backups
Threat Defense
Cohesity allows you to reduce the threat of ransomware and data exfiltration with a security-first next-gen data management solution designed to keep your data secure.
Go beyond zero trust with Cohesity Threat Defense
Defend your business against sophisticated ransomware attacks that aim to encrypt and exfiltrate your data with a multilayered data security architecture
Cohesity Threat Defense architecture helps you keep your data secure as part of an overall defense-in-depth strategy. Threat Defense stops cybercriminals from impacting your business, identifies near real-time anomalies with AI-powered detection and analytics, and strengthens your security posture with integrations and interoperability with a broad ecosystem of leading security solutions.
Ransomware recovery
Defend against ransomware attacks with a comprehensive data security architecture that includes immutable backup snapshots, AI-based early detection, and the ability to rapidly recover at scale.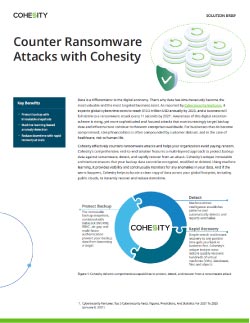 Counter ransomware attacks with Cohesity
PDF on ransomware attacks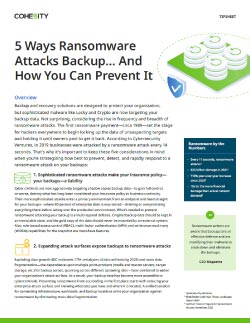 5 ways ransomware attacks backup and how you can prevent it
Tip sheet on ransomware attacks
File and Object
Go beyond scale-out NAS with software-defined flexibility for enterprise file and objective services.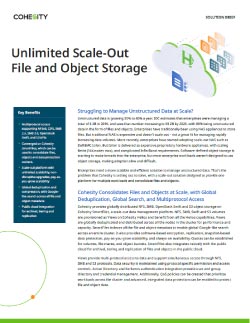 Unlimited Scale-Out File and Object Storage
Solution brief on storages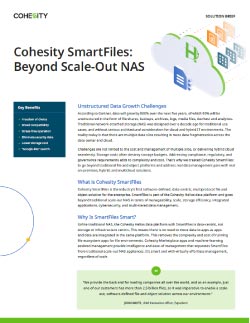 Cohesity Smartfiles: Beyond Scale-Out NAS
Solution Brief on Smartfiles
Cohesity Alliance Partners
Confidently run Cohesity software in your data center, in the cloud, or at the edge with certified solutions from Cohesity and our partners.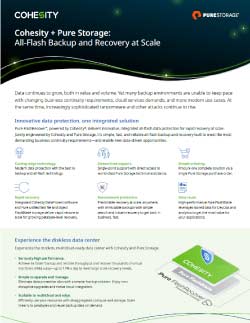 Cohesity + Pure Storage, All-Flash Backup and Recovery at Scale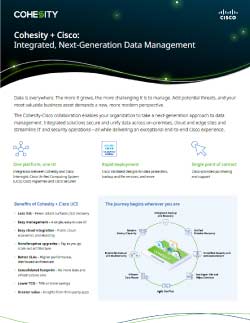 Cohesity + Cisco, Integrated, Next-Generation Data Management
Cohesity
Defend your Data! Refuse the Ransomware
Cohesity Next-Gen Data Management – Modern Challenges Need Modern Solutions
Your data is a uniquely valuable resource and can be a significant competitive advantage. But the more data you have, the more complex it is to manage. And with rapidly increasing ransomware and other cyber threats, your data – and business – is more vulnerable than ever
At Cohesity, we believe that technology should work harder and smarter for you, whether it's reducing complexity, keeping your business secure, or delivering more value. We relentlessly innovate to build next-gen data management solutions that help you stay ahead of modern-day challenges.
Ready to Learn More?
Contact us to discuss Cohesity solutions for your organization.