Support and Maintenance Services
Custom-tailored to fit your changing needs
Minimize downtime and extend the useful life of your devices with cost-effective support and maintenance services delivered by trusted experts.
Speak with a specialist
With global supply chain shortages making new end-user computing devices hard to come by, extending the useful life of your devices has never been more critical to ensuring your organization continues to operate smoothly.
By leveraging strategic partnerships with hundreds of manufacturers and a global network of partner consultants, SHI has the scale needed to deliver a breadth of technical expertise and quicker response times for all your support-related needs, helping you recognize cost-savings and operational efficiencies.
We have the flexibility and agility to offer tailored support, maintenance, and extended warranty coverage according to your needs and budget. Our manufacturer-certified experts deliver services ranging from hardware break/fix to end-user helpdesk services, eliminating the need to dedicate staff to report or troubleshoot IT issues.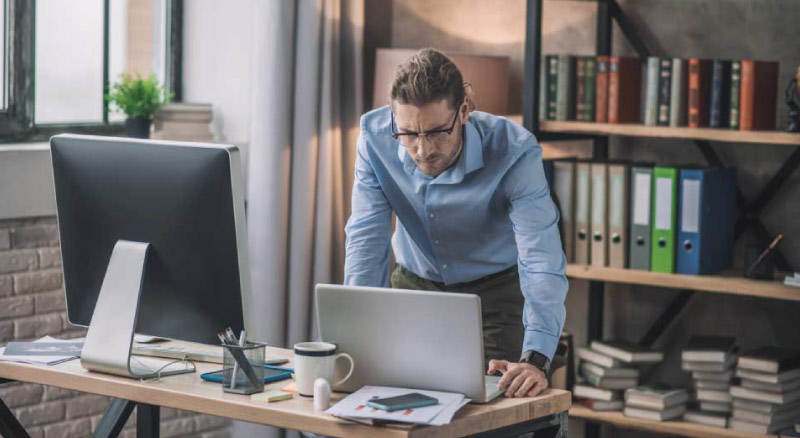 Keeping your business-critical devices working, all day, every day
We're firmly in the digital age, and your organization and your end-users rely on digital technology. Without working end-point devices, your business systems are useless. And while end-users may have multiple devices, they have different uses. They may be able to make do with a phone or tablet in place for a laptop for a bit, but those spreadsheets and slides are going to be hard to manage. Likewise, employees who are out and about don't want to carry a laptop when they can work more effectively with a phone or tablet.
Improve productivity
Putting the right support and maintenance solutions in place has a direct impact on productivity. At SHI, we work with you to understand how your end-users work and build a support and maintenance solution that meets their needs. With a 98% first-time fix rate, we keep your people up and running. They're not just more productive, but less frustrated and happier too!
Flexible service levels
While we're seeing the end of the traditional working day and week, we know that many businesses don't have the luxury of operating Monday-Friday 8.30am-5pm. If you're responding to customers when they need you, you need service level agreements that reflect that. So, whether you want 24x7x4, 8x5x4, 8x5x4 or something else, we will be there for you.
International Support
We are all working in a global economy, and for many organizations, international operations are the norm. Whether you have employees located across the globe, or supporting international customers, we have you covered. Our vast partner network includes over 160 global stocking locations in more than 141 countries, supporting you 24x7x365.
OEM certified experts
The ridiculously helpful experts that make up SHI's engineering teams are hired directly from OEMs and have an average of 15 years' experience. Not only that, but we invest in their ongoing training and development to ensure that they are OEM certified for the newest technologies as well as the older equipment that you rely on – across a full range of vendors.
Save time, save money
Time is precious, and your IT teams are already stretched. By sourcing all your end-point support from SHI you make life easier for end-users and IT alike. With a single provider to contact and manage for hardware support, your IT teams can relax knowing our customized SLAs and ridiculously helpful experts will ensure end-users receive the service they need.
Vendor neutral support
IT environments are complex, and it is unrealistic to expect all your end-user devices to be sourced from a single OEM. Your preferred vendor may change over time, you may acquire devices as part of M&A activity, or you might need specialist equipment for different teams. SHI has an extensive partner network, and our support services are designed to reflect this.