Simplify technological complexity and embrace innovation with the Services at the Customer Innovation Center (CIC)!
In addition to the core services listed below, we also offer custom services for your unique needs. If you require a service that is not listed here, contact CIC-Events@SHI.com to get the conversation started.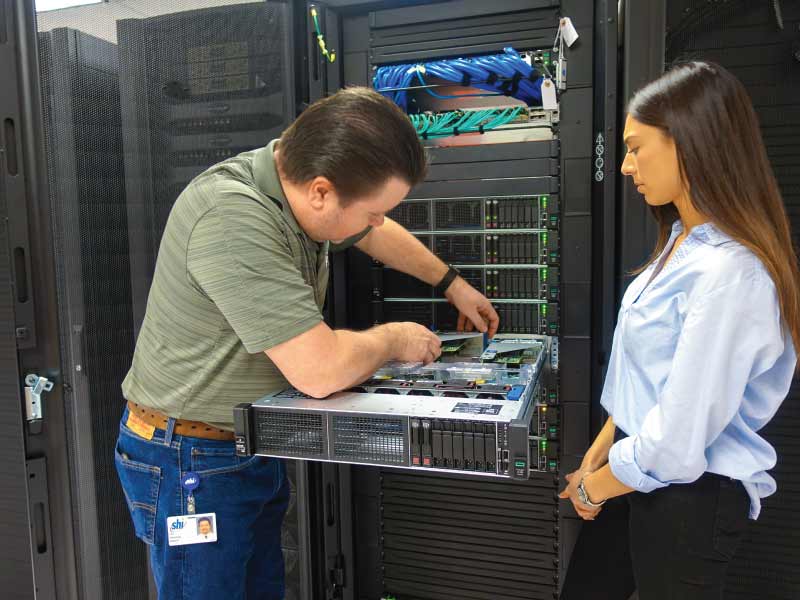 Tours
Visit the CIC Showcase, and End-User and Pilot Labs to explore our data center, end-user and security capabilities. We'll help you develop a business strategy that incorporates the different dimensions of innovation, from ideation to activation. Come brainstorm with us and envision what's possible!
Product and Solution Demonstrations
Request a demonstration, and in as little as thirty minutes, you can receive a brief overview of the product or solution's features and capabilities, followed by a live presentation of the software interfaces!
Workshops and Events
We offer half-day, full-day and multi-day options where you'll gain insights on the latest IT trends, participate in whiteboard sessions, obtain hands-on access to some of the most innovative technologies and more. Sessions are conducted by our team of certified IT experts, and can be delivered inside of our Executive Briefing Center, at your location or remotely.
Proofs of Concepts (POC)
This is your chance to explore a concept with deep-dive demos and a test plan! Within just a few hours, or over the course of several days, you'll know if your concept has the potential for real-world application. If your POC is successful, you may choose to conduct additional testing via a pilot before moving the solution into production.
Pilots and Sandbox Environments
Whether you bring your own tech or choose to leverage any of our industry-leading partners, we'll help you with product comparisons, design validation, benchmarking, multi-vendor solution evaluations and more!
Each pilot includes an initial rollout of a system into simulated production, targeting a limited scope of the intended final solution. If the pilot is successful, you can move the environment into production and deploy it to your end-users.
Our sandbox environments allow you to conduct break/fix testing, explore new ideas, examine alternate configurations, and gain hands-on experience with technologies outside of your normal operating environment.
Testing as a Service (TaaS) Solutions
Leveraging TaaS Solutions can help you offload expensive, time-consuming internal testing processes, accelerate the development of new products and services, generate new sources of revenue, and decrease the overall time to market.
Our experts will manage the entire testing process, including comparison, functional, unit, performance, benchmark, stress, upgrade, migration and end-to-end testing, so you can focus on your core business.
Assessments
We conduct an in-depth and objective review of your current state, identify gaps within industry best practices, highlight redundancies and inefficiencies, determine potential risks, and make recommendations that align with your desired outcomes. You'll walk away with a strategy to deliver long-term success by minimizing risk in the face of change!
Design and Deployment
Simplify and speed up the utilization of new products and solutions! Our team of skilled engineers complements your IT staff, minimizes disruption and helps improve efficiency. Let our range of end-to-end services help you maximize your IT investments!
Equipped to deal with disruptive change? Contact CIC-Events@SHI.com to learn how we can help you get fit for the future.